Frontend Developer v/s Backend Developer
Let's do Doodh ka Doodh & Paani ka Paani
First, we must have a clear understanding of Types of Developers :
Second, we must have a clear knowledge on the Learnings :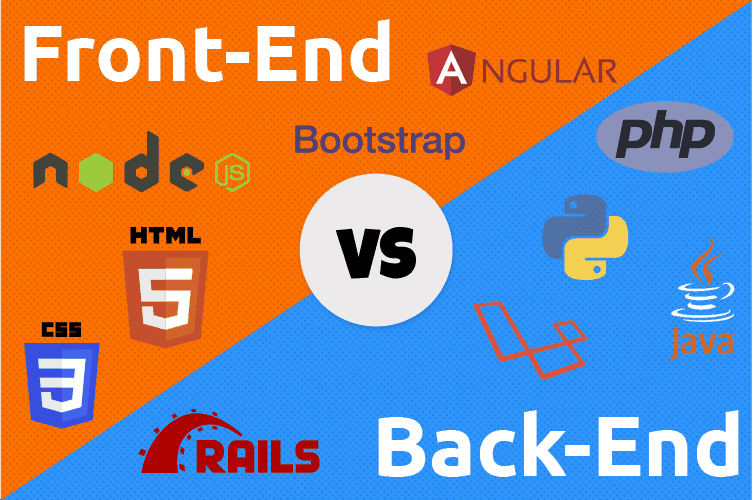 ---
Front-End Development
Front-end development focuses on the user-facing side of a website. Front-end developers ensure that visitors can easily interact with and navigate sites by using programming languages, design skills, and other tools. They produce drop-down menus, layouts, and designs for websites.
Front-end devs use computer programming languages like JavaScript, HyperText Markup Language (HTML), and Cascading Style Sheets (CSS) to design websites. Each language serves a unique purpose. HTML lays out the site's content and structure, CSS adds design features, and JavaScript creates advanced interactive features. Less commonly, front-end devs know other programming languages like Python, PHP, or Ruby.
"Front-end development focuses on the user-facing side of a website."
These developers need expertise using frameworks and libraries like jQuery, Bootstrap, AngularJS, and EmberJS. Frameworks ensure that content appears correctly on all devices, while libraries condense code into smaller, time-saving packages. Front-end devs may also use graphic design programs like Photoshop or Sketch, along with code editing tools like Notepad or Eclipse.
Front-end development requires technical expertise and creativity to ensure websites' user interfaces look correct and function properly. Front-end devs work with back-end developers, designers, and user experience analysts.
A front-end developer typically needs a bachelor's degree in web design, programming, computer science, or graphic design. Some individuals develop these skills through previous work, bootcamps, or projects to find employment without pursuing formal education.
Below, we describe key front-end developer skills and explain why they need these abilities.
Front-End Developer Skills
---
Back-End Development
Back-end developers focus on the server side of websites. They use technical skills to perform the behind-the-scenes work that creates a website's structure and overall functionality, allowing a site's front end to exist. These professionals create a site's operations, databases, and application programming interface (API).
The back end includes an application, server, and database. Computer users often do not see the elements of back-end development, which remain below the hood of a website.
Back-end developers need advanced experience in server-side programming languages like Java, Python, and Ruby to build applications. Students can learn or brush up on specific computer programming languages by completing bootcamps. For example, see our page on the best Python boot camps.
"Back-end developers focus on the server side of websites."
Back-end devs use tools like SQL Server and Oracle to store, organize, and change data. Employers often require expertise with PHP frameworks, version control software, and debugging back-end systems and applications. Back-end devs collaborate with front-end developers, management, and business stakeholders to understand each project's goals.
Most employers require back-end devs to hold bachelor's degrees in computer science, programming, or web development. Some back-end devs can find employment without earning four-year degrees by learning through relevant work experience or boot camps.
With additional training, education, or certifications, some back-end developers can translate their experience into higher-paying careers as software engineers. Below, we explain some skills that back-end developers usually possess.
Back-End Developer Skills
What's the Difference Between Front-End and Back-End?
All websites require front-end and back-end development. Front-end development focuses on the visual aspects of a website – the part that users see and interact with. Back-end development comprises a site's structure, system, data, and logic. Together, front-end and back-end development combine to create interactive, visually pleasing websites.
Both types of developers need strong coding skills. Front-end devs use programming languages to bring the client side of a site to life. This development takes technical, creative, and communication skills. Back-end developers use server-side programming languages to ensure that websites function properly.
Back-end devs remain in high demand for their technical expertise. According to September 2021 PayScale data, back-end developers earn $81,160 on average, while front-end developers make an average of $75,440.
The following information compares front-end vs. back-end developers.
Front-End vs. Back-End Developers
| | | |
| --- | --- | --- |
| | FRONT-END DEVELOPERS | BACK-END DEVELOPERS |
| What They Do | Front-end developers focus on designing the physical appearance of websites with front-end programming languages. The visual aspect of a website is the result of front-end development — including fonts, colors, layout, and graphics. | Back-end developers create the structure or logic of a website by using server-side programming languages. They write code that tells the website how to bring the front-end programming languages alive. |
| Average Salary | $75,440 | $81,160 |
| Programming Languages | JavaScript, HTML, CSS | Python, Java, Ruby, PHP |
| Frameworks & Libraries | jQuery, AngularJS, SASS, Bootstrap, EmberJS | Django, Laravel, Spring, Zend, Symfony, CakePHP |
| Who They Work With | Back-end developers, clients, management, business stakeholders | Front-end developers, management, business stakeholders |
Full-Stack Development
Full-stack development encompasses the entirety of an application, including back-end and front-end development. Instead of specializing in one type of development, full-stack developers apply their skills to both. Companies usually hire full-stack developers for their "big picture" mindsets and complete understanding of the creation process.
Full-stack devs know front-end and back-end programming languages, like JavaScript, Java, Python, and CSS. Other typical skills include experience with web architecture, developing algorithms, databases, and Git and GitHub.
Becoming a full-stack developer takes longer and requires mastery of two types of skills. Pursuing full-stack development can open the door to more opportunities and help you stand out from the competition. PayScale reports that full-stack developers earned an average annual salary of $78,940 as of September 2021.
Questions About Types of Software Engineering
Is front-end development easy?
No, but some people may find it easier than back-end development. Front-end developers need strong coding skills, but back-end development takes more advanced technical expertise.
What is needed for front-end development?
Front-end devs use front-end programming languages like HTML, CSS, and JavaScript. Front-end developers also use frameworks and libraries like jQuery, AngularJS, SASS, Bootstrap, and EmberJS. The best front-end devs display creativity, good communication, and up-to-date technical skills.
What does a back-end developer do?
Back-end developers are responsible for the behind-the-scenes work that it takes to build the structure and logic of a website. They create the invisible "brain" of websites that run beneath the user-facing side.
How do I become a back-end developer?
Back-end developers typically hold bachelor's degrees in web development, programming, computer science, or other related fields. Some employers hire back-end devs who develop their skills through work experience, boot camps, or certification programs.
Did you find this article valuable?
Support ZordCoder by becoming a sponsor. Any amount is appreciated!